March 2013 Featured Band
Every month, a randomly selected band will be featured here. If your band wants to be featured on this page,
click here
.
USA Waste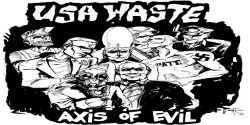 http://facebook.com/usawaste
&
http://www.mainepunx.com
Brett Threat (a founding member of A Global Threat) started this band in 1999 with two friends. 13 years later and we are still playing tours, making records and having a fucking awesome doin it.We are from Maine but we will travel anywhere and play any show.We follow D.I.Y ethics and do this for fun and not money.
Started: 1999
Members:
Brett Threat - AXE
G Finn - Low End
Zakk Waste - Human Beatbox
Location: Bangor, Maine
Influences: Everything pretty much.. From Anvil To NoFX.
Sounds Like: Street Punk (A Global Threat, The Unseen, Casualties) etc...
Next Shows:
March 7th - KACC in Orono, ME with SNAFU
March 23rd - Worthern House in Lowell, MA
March 24th - Firehouse 13 Providence, RI with The F.Us, DYS and Urban Waste
April 24th - Genos Portland, ME

Copyright © 2005-2023 Jack, All Rights Reserved.
Powered by: