October 2007 Featured Band
Every month, a randomly selected band will be featured here. If your band wants to be featured on this page,
click here
.
Sport Doen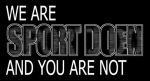 http://www.sportdoen.be
Sport Doen used to perform Riot Gigs in kitchens and in the middle of popular musical events audience, Sport Doens pirates are slamming faces with a furious mix of punk and 70s garage-rock. With influences ranging from the Ramones to the MC5 as well as the Sex Pistols or The Clash, the band takes its entire dimension on stage between roaring amps and crashing guitars. Be careful! Keep your Grand Ma away, as they could play in your living room. Sport Doen its fast! Sport Doen its raw! Sport Doen is just damned rocknroll.
Started: 2003
Members:
Fred - Vocals
Gaston - Guitar / Bass Guitar
Yves - Guitar / Bass Guitar
Fred - Drums
Location:Brussels, Belgium
Influences: Bad Religion, Ramones, Clash, MC5, Sex Pistols....
Sounds Like: Old school punk...
Next Shows:

Copyright © 2005-2023 Jack, All Rights Reserved.
Powered by: