July 2014 Featured Band
Every month, a randomly selected band will be featured here. If your band wants to be featured on this page,
click here
.
Speedfreaks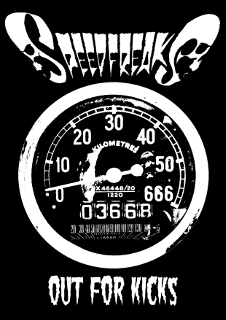 http://www.myspace.com/speedfreaksofficial
Speedfreaks are back with their second full length album, Out for kicks! This time with a set of more mature kick ass rocknroll songs but not straying away from their roots in hard rock´n´roll, hardrock and punk. The changes in the Speedfreaks line-up since their acclaimed debut album (Born A Rocker, Die A Rocker) have brought on a more thoughtfull approach regarding lyrics and arrangement but not sacrificing the raw power from the past. Tomas Modig, a powerful singer with a rich history from bands like P-Nissarna, Lotus, On Parole and Skyron. A singer who with ease can carry his vocals over Edins powerful riffs. Edin Seleskowic, the loud & fast guitarist. Always able to squeeze out a riff to fit every mood in a Speedfreaks song. Speedfreaks main riffmaster since the beginning. Speedfreaks newest member, bass player Peter H, has brought his skilled & groovy bass playing to Speedfreaks. The foundation on which Speedfreaks are placed are the powerful drumming of Pe!
lle Skoglund. The man with the big drums and the big, powerful sound able to cut through the riffs and always on the beat. So, prepare for an intense experiance with Speedfreaks new album, Out for kicks! It will rock your ass of, and ours to!!!
Started: Early 1990
Members:
Tomas Modig - Vocals
Edo Seleskovic - Guitar
Peter H - Bass
Pelle Skoglund - Drums
Location: Guthenburg, Sweden
Influences: Cult, Black Label Society, Black Sabbath, Sex Pistols, Motörhead, Stooges, TOOL, Entombed, Kiss, Sham 69, Jimi Hendrix, Faces, Union Carbide Production, Alice Cooper, Sheavy, Thåström, QOTSA, Sepultura, Monster Magnet, Nudeswirl, Velvet Underground, Blind Dog, Blitz, Pantera, Bob Dylan, Highway Robbery, Rainbow, Kyuss
Sounds Like: SPEEDFREAKS
Next Shows:

Copyright © 2005-2023 Jack, All Rights Reserved.
Powered by: