September 2020 Featured Band
Every month, a randomly selected band will be featured here. If your band wants to be featured on this page,
click here
.
Sluts On 45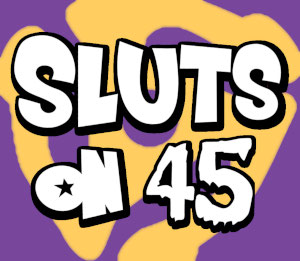 https://www.facebook.com/sluts.on.45.dive.music
Our sound ranges from early 80's punk rock to 60's garage to hardcore punk to surf with 50's doo-wop thrown in for some songs....we all grew up in dives, so we are really good at playing music that comes out of dives....DIVE MUSIC.
Our April 2011 release "Steeped in Semen" is a limited edition EP with 6 songs. Two songs from this EP are on the new 7" (purple or black vinyl)....just in!
Started: September 2010
Members: Shawna From Torawna - Guitar Carnage
Sue Brazen - Shrieker / Crooner
Mike Rod - Naked Drummer
L.A. Kraeg Deezkust - Bass Meister
Location: Toronto, Ontario, Canada
Influences: Agent Orange, The Oblivions, DOA, The Plasmatics, Filthy Taylor, The Cynics, Dead Kennedys, The Troggs, GG & the Jabbers, Poison Ivy, Joan Jett, Barbara Gowdy (author), Forgotten Rebels, Yard Birds, Wayne County, The Cramps, The Runaways, 10 Years After, 1950's doo-wop music, John Bonham, Keith Moon, Los Bravos, Budgie, Sir Lord Baltimore, Slayer, and demonic possession in general.
Sounds Like: "A turbocharged combination of punk and hard-rock oozing of attitude and energy. Driving guitars and shouting choruses, a pretty good snapshot of the 70's punk era and spirit." ~ Lonely Vagabond
Next Shows:

Copyright © 2005-2022 Jack, All Rights Reserved.
Powered by: