July 2015 Featured Band
Every month, a randomly selected band will be featured here. If your band wants to be featured on this page,
click here
.
Screaming Red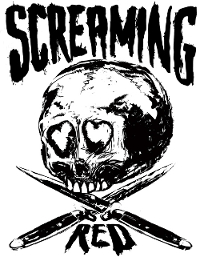 http://www.screamingredrocks.com
Screaming Red: Originally formed in early 2004 Screaming Red consisted of guitarist Daisi Walia and bassist Cera Johnson. The two held auditions for lead vocals and stumbled upon Andrea LaRue. These three girls then went on to audition drummers. The next 2 years were spent writing and playing shows locally with a new drummer every few months. Finally in late 2006 the three met with Phil Lee who began practicing with the band and became a good fill for the missing piece. Screaming Red then began playing more frequently around Texas. Known for their wild stage antics and raw grit punk rock sound, news of Screaming Red began spreading by word of mouth like wildfire. This prompted these ambitious girls, and guy to launch their own record label Wrecked All Records in the summer of 2008. Their fans now expand across America and even overseas to the UK and Japan even though the band has not yet had the chance to tour overseas. With an endorsement from Daisy Rock Guitars and the recen!
t release of their first full length studio CD "Kick In Tha Face", Screaming Red is quickly earning respect as a hard working and talented new band. The band is currently in the studio working on their next full length CD and a video for their single "Crashing Down".
Started: 2004
Members:
Andrea LaRue - Lead Vocals/Sax
Cera Johnson - Bass/Backing Vocals
Daisi Walia - Guitar
Philthy Lee - Drums
Location: Dallas,TX
Influences: The poop on your face! bwahahahahah! All this emotionless crap on the radio... TEAR IT DOWN!
Sounds Like:
"One of the few girl fronted bands that are instantly likeable..This band has what it takes to make it to the mainstream."
-Gemma Milroy/ Black Velvet Magazine
"One listen and you are hooked;amazing vocals and excellent guitar...the energy that they put into everything they do will soon get them noticed"
-Gemma Milroy/ Black Velvet Magazine
"A full-on skin pop of heroin(e) fueled grrrl punk...The whole band was super-tight and my pants got a bit snugger during the show, too. A few years ago I wanted to marry the Lunachicks, but now I'm conflicted."
-Rockers vs Mods recap 2008 www.rockersvsmods.com
"Defying stereotypes is something Screaming Red is really good at, and they use their originality to encourage others to do the same."
-Grizzly Detail
"The fun and wild tone of Screaming Red gives them a whole new dimension"
-Grizzly Detail 2008
"Screaming Red's passion has gained them a large and loyal fan base"
-Grizzly Detail 2008
"The stealers of the show were a group of hot and talented ambisexterous girls and one lucky drummer dude called SCREAMING RED. Power Punk is what they do and a show is what they give. When this bunch plays they will not allow you to take your eyes off of them. By the time they are done, you feel guilty like your ears have have raped...and you liked it. Booking agents...BOOK THIS BAND!
- JC Hornmonger/Peppermill Lounge 9/13/08
"I can guarantee that you will fall head over heels in lust with them, and they will rock your ass off!"
-Collene Morgan, Metro A&E 2008
"SCREAMING RED: Three tough, naughty girls with guts up front, playing punk rock with raw grit."
- Dallas QUICK 2007
"Screaming Red is a predominately female punk/rock/hardcore band from the Dallas surrounding areas.. Put together in February of 2004, this band has gone from a dream to a reality quicker than any of the members expected."
-Rockband.com 2007
"They're fast, they're in your face, they're Screaming Red"
-Vimby 2008
Next Shows:

Copyright © 2005-2022 Jack, All Rights Reserved.
Powered by: