September 2010 Featured Band
Every month, a randomly selected band will be featured here. If your band wants to be featured on this page,
click here
.
Public Dissent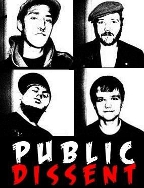 http://www.myspace.com/publicdissent
Punk, Ska, and Hardcore band straight from the streets of SLC.
Started: 2009
Members:
Austin Doomsday
Mike Hooligan
Scotty Flawless
Aaron
Location: Salt Lake City, Utah
Influences: We like most punk, hardcore, and ska bands but mainly the Suicide Machines, Minor Threat, Black Flag, Chocking Victim, Streetlight Manifesto, and Taylor Swift.
Sounds Like: Hell if I know.
Next Shows:

Copyright © 2005-2023 Jack, All Rights Reserved.
Powered by: