December 2011 Featured Band
Every month, a randomly selected band will be featured here. If your band wants to be featured on this page,
click here
.
Officer Down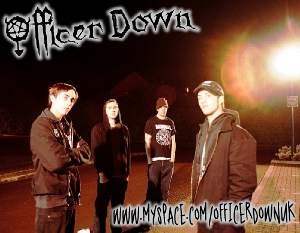 http://www.myspace.com/officerdownuk
Punk/Hardcore
Started: 2005
Members:
Gammon - Vocals/Guitar
Will - Vocals - Drums
Shay - Bass/Vocals
Al - Guitar/Vocals
Location: Evesham UK
Influences: Strike Anywhere, Leftover Crack, Public Enemy, Bad Religion, Pennywise, INDK, No Ca$h
Sounds Like: If the Strike Anywhere tour bus was in a pile up with Bad Religion, Pennywise, Public Enemy and Leftover crack's, We would sound somthing like that!
Next Shows:

Copyright © 2005-2022 Jack, All Rights Reserved.
Powered by: