June 2021 Featured Band
Every month, a randomly selected band will be featured here. If your band wants to be featured on this page,
click here
.
The Nukeproofs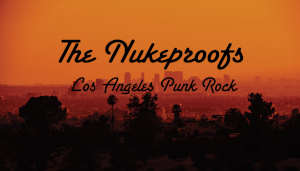 https://www.thenukeproofs.com//
The Nukeproofs are a punk-rock act that originated in the "atomic city" of Los Alamos, NM in the fall of 2013, and made their Los Angeles debut in 2016 after two of the three original members moved out west to pursue a career in music. With recruit of bassist John Murphy, they have released the single 'Well Then...' off the upcoming album Heatwave , which showcases their diverse sound while staying true to their punk roots, and are currently performing in and around the greater Los Angeles area.
Started: August 2013
Members:
John Murphy (Bass, Vocals)
Jake Bonn (Guitar, Vocals)
Brodie Higgs (Guitar, Backing Vocals)
Rob Ketchum (Drums, Backing Vocals)
Location: Los Angeles, CA
Influences: Black Flag, Rise Against, Queens of The Stone Age, Bad Religion, Fidlar, Rancid.
Sounds Like:
Next Shows:

Copyright © 2005-2023 Jack, All Rights Reserved.
Powered by: