April 2010 Featured Band
Every month, a randomly selected band will be featured here. If your band wants to be featured on this page,
click here
.
My Own Black Eye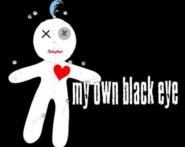 http://www.myownblackeye.com
My Own Black Eye is like a secret super-group. It took an impossible series of coincidences and bizarre twists of fate to collect these four gentlemen into the same sweaty southern Oregon practice room for the purpose of purveying maximum rock and roll. The band's sound takes all that was right and good about the '60s and '70's and gives it a black eye. Ah but this is no "reenactment" band. When they walk out on that floor it's all business. It's got a familiar feel and you dig it but it's clearly a different beast... which makes you a little nervous. Like finding yourself in the strong loving arms of a big, foreign woman who won't tell you why she's got a hammer and a bunch of melted jello shots in her handbag. And oh yeah. It rocks like a motherfucker.
Christopher Blanchard aka "Moose" throws down the bass thump. Moose is a veteran of the Portland rock scene and has the scars to prove it, but he doesn't like to talk about it. Guitarist and singer Daniel Crandall spent a decade working and playing in the Austin music scene. You may remember him as the bald guy along side such Austin stalwarts as Rebecca Cannon, Meg Hentges, and Thor Harris among others. The Amazing Joe Coitus came out of the Florida swamps cool and low, with deadly precision and a backbeat narrow and hard to master. Joe plays Drums like King Kong on acid yet with a lover's touch on the Cowbell. Guitarist and Plectrum God Myki Vinovich has been active in scenes from Portland to Peoria, Dallas to Nashville. The Dallas folks know him from Swingin Dicks and Lost Dog and up in Peoria he rocked in Suicide Swing.
My Own Black Eye - Name brands, rock bottom prices, if you find a better deal, you eat for free - guaranteed.
Started: 2005
Members:
Daniel - Guitar/Vocals/Theramin
Christopher - Bass/Vocals
Joe - Drums/Cowbell
Myki - Guitar
Location: Medford, Oregon
Influences: Queens of the Stone Age, Eagles of Death Metal, anything that rocks....
Sounds Like: Hard-core rock n roll with a touch of soft-core porn..!!!
Next Show:

Copyright © 2005-2023 Jack, All Rights Reserved.
Powered by: