September 2009 Featured Band
Every month, a randomly selected band will be featured here. If your band wants to be featured on this page,
click here
.
Final Solution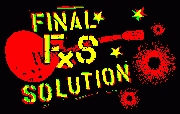 http://www.myspace.com/finalsolution
Final Solution is a social and political charged street punk band from Ontario, California. We've had the opportunity to share the stage with many great bands, such as:
*Leftover Crack
*Shattered Faith
*The Partisans
*Battalion Of Saints
*D.I.
*Wanted Dead
And many more.
Started: 2003
Members:
Greg - Vocals
James - Drums
Tom - Bass (Guitar for The Main/Shattered Faith)
Steve - Guitar
Location: Chino/Ontario, CA
Influences: FILTH, Oxymoron, Rudimentary Peni, GBH, Motorhead, Leftover Crack, GG, Minor Threat, Bad Brains, Nausea
Sounds Like: Final Solution, Anti racist street tunes.
Next Shows:

Copyright © 2005-2023 Jack, All Rights Reserved.
Powered by: