April 2018 Featured Band
Every month, a randomly selected band will be featured here. If your band wants to be featured on this page,
click here
.
Extra! Extra!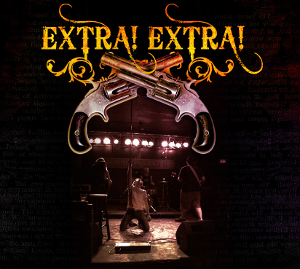 http://www.myspace.com/extraextra419
Modern yet vintage, Extra! Extra! plays a blend of late 70's influenced tunes that can only be described as rock-n-roll.
Started: January 2008
Members: Nathan Sorg - Vocals
Brandon Beard - Guitar/Back-up Vocals
Drew Merrit-Bass/Back-up Vocals
Andy Branham-Drums/Back-up Vocals
Location: Toledo, Ohio
Influences: AC/DC, the stooges, mc5, lou reed & the velvet undergorund, bear vs shark, the bronx, the rolling stones, anything we've ever heard and enjoyed!
Sounds Like: AC/DC, the bronx, bear vs shark, early days rolling stones,pure, unadulterated rock-n-roll baby!
Next Shows:

Copyright © 2005-2023 Jack, All Rights Reserved.
Powered by: