October 2011 Featured Band
Every month, a randomly selected band will be featured here. If your band wants to be featured on this page,
click here
.
Dun 2 Def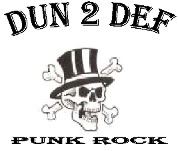 http://www.myspace.com/dun2def
Dun 2 Def formed in 1996 under the name '77' as a punk covers band with members ferret, twig, dave gatis and mark vickers. they changed the name to dun 2 def in 2001 and released the bomb squad e.p. and released the album 'dun 2 def' in 2004. The band have played with many old skool bands such as: the Varukers, U.K subs, Meteors, the Vibrators, T.V smith, the Wernt, G.B.H, Sic boy federation, the Duel, Intensive care, Oi Poloi, Angelic Upstarts and Peter and the Test tube babies. In october 2004 the band changed its line up when Dave Gatis moved to Canada bringing in new bass player Nick Golder and second vocalist Jon Ellams also of R.S.I. They played a few gigs before adding second guitarist Ash to the line up, the band have played many gigs this year with this line up untill recently when bass player Nick Golder and drummer Mark Vickers were replaced with young upstart Ralph Bates on bass guitar and Tendons guitarist Floyd on drums.
Started: 2001
Members:
Ferret - Vocals Mad Jon - Vocals Twig - Lead Guitar
Ash - Rhythm Guitar
Ralph - Bass
Floyd - Drums
Location: Milton Keynes, England
Influences: U.K subs, The Damned, Stiff Little Fingers, Slaughter And The dogs, The Clash, The Ramones, The Ruts, The Members, G.B.H, The Specials
Sounds Like: OLD SCHOOL PUNK ROCK!!!!!!!
Next Shows:

Copyright © 2005-2023 Jack, All Rights Reserved.
Powered by: