July 2011 Featured Band
Every month, a randomly selected band will be featured here. If your band wants to be featured on this page,
click here
.
Decay Of Society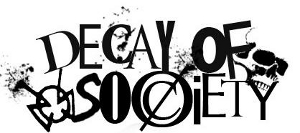 http://www.myspace.com/dospunx
Decay of Society is a pessimistically charged fast paced punk rock band from Palmdale california. With sometimes metal enforced guitar riffs, bass lines that expand all across the fret board, Fast paced drum beats, and in your face screaming vocals Decay of Society will always keep you moving in the pit!
Started: 2005
Members:
Boka - Vocals
Chwalek - Guitar/Backing Vocals
Javi - Bass/Backing Vocals
Daniel - Drums
Location: Palmdale, California
Influences: Decay of Society has many different types of influences due to each member being heavier influenced by they're own genres, here are a few: The Unseen, A Global Threat, Career Soldiers, Aus Rotten, Metallica, Suicide Silence, Streetlight Manifesto, Avenged Sevenfold, Crass, Skarp, Buck Cherry, And many many more!
Sounds Like: Four pissed off kids.
Next Shows:

Copyright © 2005-2023 Jack, All Rights Reserved.
Powered by: