June 2013 Featured Band
Every month, a randomly selected band will be featured here. If your band wants to be featured on this page,
click here
.
Dead Beat Heros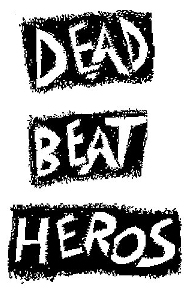 http://www.facebook.com/deadbeatheros
Punk band from Glasgow, Scotland. Played with bands such as Random Hand, Left Alone, Devil's Brigade, UK Subs, Subhumans and more.
Started: 2006
Members:
Cracks - Bass / Vocals
Budgie - Guitar / Vocals
Shaun - Drums
Location: Glasgow
Influences: Crimpshrine, Fifteen, Green Day, Pinhead Gunpowder, Shotwell, and Rancid.
Sounds Like: Green Day mixed in with abit of Jimi Hendrix.
Next Shows:

Copyright © 2005-2023 Jack, All Rights Reserved.
Powered by: