November 2016 Featured Band
Every month, a randomly selected band will be featured here. If your band wants to be featured on this page,
click here
.
ChokeOnnit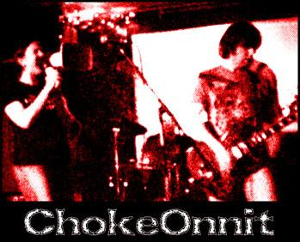 http://myspace.com/chokeonnit
ChokeOnnit is a Toronto-based indie punk band which melds the best sensibilities of bands like Black Flag, Sonic Youth, the Stooges and NOMEANSNO in a novel and modernist way - leaving plently of room for noise and experimentation.
Started: 2006
Members:
Bruce Headley - Skins
Gerald Fratzl - Guitar
Vanessa Hanson - Throat
Steve Brown - Bass
Location: Toronto, Ontario, Canada
Influences: Inspired by greed, apathy, mediocrity, soul sucking capitalism, liars, polluters, thieves, and all the poor suckers who live to be bigger ostentatious & pretentious chest beaters...
Sounds Like: Executives with no money.
Next Shows:

Copyright © 2005-2023 Jack, All Rights Reserved.
Powered by: