April 2015 Featured Band
Every month, a randomly selected band will be featured here. If your band wants to be featured on this page,
click here
.
Cause Of Death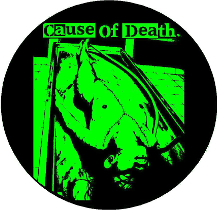 http://facebook.com/causeofdeathpunk
Cause Of Death - Formerly - Final Solution (No Front Teeth)
Started: 2010
Members:
Greg Willert - Vocals
Tom Wold - Guitars
Steve Prince - Guitars
Scott - Drums
Location: Ontario, CA
Influences: Bad Brains, Minor Threat, UK Subs, Stiff Little Fingers, Rudimentary Peni, Crass...
Sounds Like: Final Solution...
Next Shows:

Copyright © 2005-2023 Jack, All Rights Reserved.
Powered by: