October 2018 Featured Band
Every month, a randomly selected band will be featured here. If your band wants to be featured on this page,
click here
.
Canestorto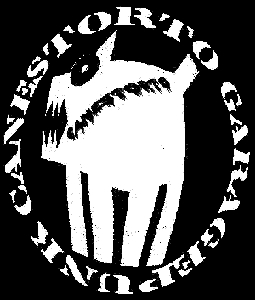 http://www.canestorto.tk
1. Style: 3-chord Anarchoi-Stoner-Garage-punk it's not like all the fat and epitaph shit!
2. History: we all know Italy, Belgium en Holland has a tradition of damn good punk bands!
3. Live: CANESTORTO Played with a/o.: DE HEIDEROOSJES,GREEN LIZARD, SUPER FERTILE SISTERS, MAILIVE, ZOAB, DICOLAMIA and way too many other bands.
4. Records: In 2002 we put out the debut EP "L'ANARKIA", recently we also released "NO POLITICA NO" at our label CanistortiRecords®
5. Fashion: You're allowed to spit at the band during the concert.
6. The Story: An almost unhealthy obsession for real-garage punk is what drives the band. CANESTORTO has been around since the summer of 2001.
7. The music? : Yes it's Anarchoi-Speed-Garage-Punk for sure.
8. Best live events so far: fighting audience members on stage and an also on-stage fight with an "LPF-guy".
9. Reviews: The debut EP "L' ANARKIA" got Raving reviews in all the Italian punk fanzines, and in LIVE XS (February-2002-Holland)!
10. News: The band is also working on a new 5 song EP which is scheduled for fall 2007.
Started: 2001
Members:
Michiel van Bommel - Signor Chiel(from Holland) who plays bass, sings, makes a lot of noise and is usually in a state of comatose "AnarchOI"....
Erwin - Signor Ritmo-Ritmo (from Belgium) who plays drums, sings and can out drink any asshole reading this shit
Massimo - Signor strot (from Italy) who plays guitar, sings and constantly tries to stir up trouble.
Location: Tilburg, Holland
Influences: Negazione, Exploited, Die Nakse bananen, F minus, The cramps, Madbones, M.D.C., Beastie Boys, Dead Moon, The Monomen, Motorpsyco, The Spits, Sonic Youth, Morphine, Milkman, Skiantos , Killdaddies, Bad religion, Turbonegro, The Unseen, Zeke, Peter pan speedrock, New bomb turks, Los fastidios, Dead kennedys, Texas Terri, The Bips, Eagles of death Metal, One Dimensional Man, The Hormonauts, NOFX, Pornoriviste, Maradona's, Harddiskaunt, Half my Time, Pennywise, Heideroosjes, Sottozero, U.S.Bombs, Madbones, Gerson, Giorno di paga, The Apers, Francesco C, Linea 77, Giorgio canali, Rancid, Settevite, ALL, Gluecifer, The S.T.P., Formiche Atomiche, Agnostic Front, L' invasione degli omini verdi, Pensione Libano, Happy Noise, OttoBoy, Grolschbusters, Vopo's, Holy Racket, NME, Fleas and Lice, Noctophyle, No Hoodlums, Dislocated, The Fart Farmers, Mistake, Super fertile sisters, PKG, Wagtale, ufi, Drop out, R*A*D* Scallywag, Galbak, Kezus Krijst, Blok 1A, T.B.C., Upshot, Strike In Time, Dirty Bastards, Splendid 69, Ask For Bob, Cracks in the wall.
Sounds Like: 3-chord Anarchoi-Speed-Garage-Punk it's not like all the fat and epitaph shit!!!
Next Shows:

Copyright © 2005-2023 Jack, All Rights Reserved.
Powered by: