November 2014 Featured Band
Every month, a randomly selected band will be featured here. If your band wants to be featured on this page,
click here
.
The Bloody Turncoats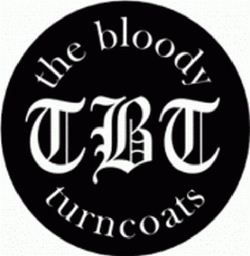 http://www.myspace.com/bloodyturncoats
The Bloody Turncoats are an agglomeration of stupidity, ineptitude, and a severe aversion to manual labor. So, as common sense dictates, we decided that music was our natural outlet.
We hail from Plymouth, MN, a hotbed of punkless bands. The Bloody Turncoats consist of Karl Miller, Dean Johnson, Morgan Philbrook, and Mike Rasque. Karl, a native of Upper Michigan (amusing), plays the guitar for us rather poorly. We'd throw him out of the band but he writes most of the songs so we are stuck with him. Dean Johnson is our drummer (seeing as how I am Dean Johnson I will only write glowing things about me. All of which are true). He is the most wonderful drummer in the world with a sense of percussive genius and impeccable groove, yet has no feel for time whatsoever. Morgan Philbrook is our bassist. He plays both the upright and electronic bass guitar. He looks stunning in a pair of neatly pressed slacks and is a smooth pimp who loves the ladies though the ladies are luke warm on him. Michael Rasque, our front man, spouts lyrics with angelic tones. He wears his pants too tight and touching his nipples is strictly forbidden.
Dean and Karl have been playing together for about six years and have recorded three albums, Deathbed Repentance, Saboteurs, and The Bloody Turncoats Admire Your Skull. Rasque and Morgan came on board more recently. We are currently working on a new EP, The Bloody Turncoats Are Beautiful, that should be finished about Septemberish '07. We remain, inexplicably, unsigned.
Started: 2006
Members:
Dean Johnson - Drums, Vocals
Karl Miller - Guitar, Vocals
Morgan Philbrook - Bass, Vocals
Rask - Vocals
Location: Minneapolis, MN
Influences: Most things punk, bluegrass, old country, jazz, metal, rockabilly, Tom Waits, Bad Religion, Lithuania choral music, Slayer, Medeski Martin and Wood, Ween, Pantera, Cephalic Carnage, Miles Davis, Strapping Young Lad, AFI, Lawerance Arms, American Steel, Flogging Molly, Frank Zappa, Captain Beefheart, NOFX, NomeansNo, DK
Sounds Like: Depends upon the song. Sometimes Dropkick Murphy's, Flogging Molly. Others Againsts Me!, folk-Irish punk and yet others Bob Dylan, The Eagles.
Next Shows:

Copyright © 2005-2023 Jack, All Rights Reserved.
Powered by: