September 2012 Featured Band
Every month, a randomly selected band will be featured here. If your band wants to be featured on this page,
click here
.
Armies Of Anger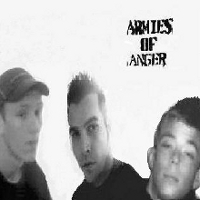 http://www.myspace.com/armiesofanger
Armies Of Anger are a DIY anarcho-punk band from the UK. Everything you hear is self recorded and self produced... enjoy.
Started: 2007
Members:
Mr Scott
Mr McEntegart
Mr X
Location: Melksham, UK
Influences: Subhumans, Crass, The Ruts, UK Subs, Culture Shock, The Clash, Instigators, Zounds, Citizen Fish, Rhythmites...
Sounds Like: Angry, badly recorded anarcho punk.
Next Shows:

Copyright © 2005-2023 Jack, All Rights Reserved.
Powered by: