January 2013 Featured Band
Every month, a randomly selected band will be featured here. If your band wants to be featured on this page,
click here
.
Anchor Down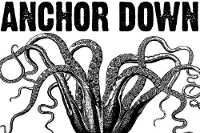 http://www.myspace.com/anchordownportland
Out of Portland, Oregon sails a fiery Anchor Down; swilling beer, belting out anthemic punk rock cannon fire as they bear down on your city, and providing a fresh outtake on the rigors of DIY culture - touring, self made albums, record label dysfunction, and the quest to see all the hard work come together in the end.
Started: January 2008
Members:
Alex - Vocals/Guitar
Lucas - Vocals/Guitar
Sean - Bass/Vocals
Chad - Drums
Location: Portland, Oregon
Influences: The Lawrence Arms, Hot Water Music, Jawbreaker, Fifteen, Avail, Fifth Hour Hero, Smoke or Fire, Samiam, Tiltwheel, Small Brown Bike, Alk 3, The Honor System, Strike Anywhere, Drunken Boat, Dillinger Four, Bruce Springsteen, Santiago, Leatherface, Gunmoll, This is my fist, Against Me!, Latterman, Saint Catherines, Discount, The Cardinal Sin, The Blackout Pact, The Loved Ones, American Steel, The Hold Steady, Dead To Me, Gaslight Anthem, The Damage Done, Swingin Utters, The Shorebirds, The Cobra Skulls, The New Trust, Hot New Mexicans, One Reason, Crimpshrine, Lifetime, Landmines, Crumb.
Sounds Like: The North West is coming for you!
Next Shows:

Copyright © 2005-2023 Jack, All Rights Reserved.
Powered by: