September 2014 Featured Band
Every month, a randomly selected band will be featured here. If your band wants to be featured on this page,
click here
.
All Torn Up!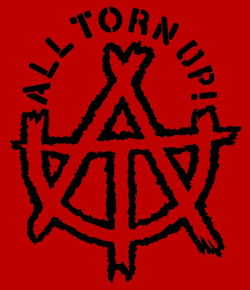 http://alltornup.bandcamp.com
All Torn Up is a collective of rage filled NYC hardcore musicians dedicated to bringing punk music and community back to being a source of rebellion against all the injustices that have shaped our angry little lives. We play aggressive conscious/political hardcore tunes that mix contemporary hardcore, 80s hardcore, and uncompromising heart for radical change. This is music to both tear this wretched world apart to, and to fuel our fire to forge a new one from it's shreds.
Started: 2008
Members:
Soren - Drums
Cello - Guitar
Jason - Guitar
Philippe - Bass
Joey Steel - Lead Vocals
Location: New York City
Influences: Malcolm X, Gorilla Biscuits, Born Against, Hot Water Music, Gwar, Witch Hunt, Government Warning, Minor Threat, Spermbirds, Helmet, Leftover Crack, Agent Orange, Weirdos, Proletariat
Sounds Like: A mix of old school/80s Hardcore & new school shit.
Next Shows:

Copyright © 2005-2023 Jack, All Rights Reserved.
Powered by: