February 2014 Featured Band
Every month, a randomly selected band will be featured here. If your band wants to be featured on this page,
click here
.
The Adulescents UK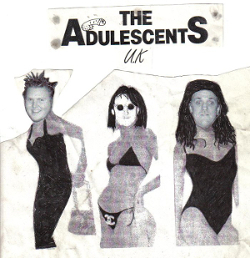 https://myspace.com/theaduluk/music/songs
Recently formed after a 5 year hiatus, The Adulescents UK have been around a bit but still sound fresh and still write honest to goodness catchy punk rock tunes, Hailing from Doncaster they are the towns longest serving band never mind longest serving punk band and they put on a great live show too.
Started: 1982
Members:
Jez - Vocals/Bass
Tez - Vocals/Guitar
Dave - Drums
Location: Doncaster
Influences: The Ramones, Pistols, Rancid, Nirvana, Toy Dolls, Green Day, Motorhead, The Clash, SLF UK Subs, GBH, Bad Religion, The Lurkers
Sounds Like: Like a cross between the Toy Dolls and The Sex Pistols with a pinch of folk.
Next Shows:

Copyright © 2005-2023 Jack, All Rights Reserved.
Powered by: