October 2014 Featured Band
Every month, a randomly selected band will be featured here. If your band wants to be featured on this page,
click here
.
Wolfsblood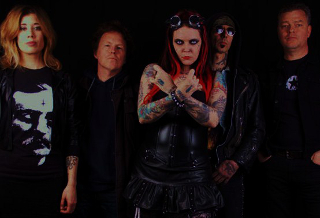 http://www.wolfsblood.se
Wolfsblood are a metal-crust band from Sweden.
Formed in Malmö Sweden in 2012 by Richard (ex-Tenebre/Funhouse). Divina and Sanna quickly joined, and shortly after, the line-up was completed with Stefan from Moderat Likvidation and Fredrik (ex-Tenebre/Funhouse). In December 2012, a 4-track demo was released. In May 2014 Wolfsblood played with the mighty Discharge in Lund and Gothenburg and right now the band is preparing to enter a studio for the recording of a fullength album. Wolfsblood aim is to make music which isn´t just crust or metal...to make really good songs without the limits of genres. We are looking for a label...
Started: 2012
Members:
Richard - Guitar
Divina - Vocals
Stefan - Drums
Sanna - Bass
Fredrik - Guitar
Location: Sweden
Influences: Venom, Discharge, Motorhead, Sacrilege, From Ashes Rise
Sounds Like: Anti Cimex, Motorhead, Discharge
Next Shows:

Copyright © 2005-2023 Jack, All Rights Reserved.
Powered by: