June 2008 Featured Band
Every month, a randomly selected band will be featured here. If your band wants to be featured on this page,
click here
.
The Vultures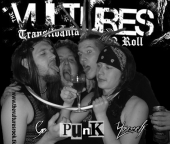 http://www.thevulturesrock.tk
Ein, Schwein, Drei, Fuck!
The Vultures was formed in the city of Borås, Sweden in spring 2004. the founders Henke and Linkan had both has other less serious projects before and now wanted to make some music that fitted their style much more.
The main influence of The Vultures music is punk rock from the early to mid 80s and the 80's wave of american hardcore.
Releases to date are:
Domination
Strangers To The World
Go Punk Yourself
Survial Session (2 songs released on the net only)
Redefenition Of Destruction
The Vultures supports heavy drinking, vomiting and anti-social behaviour at all levels. Masturbation is the law!
Started: Spring 2004
Members:
Henke Rock: Vocals & Masturbation
Linkan Rock: Gutiar & Vomiting
Robban Rock: Bass & LapDances
Bergman Rock: Drums & Tons Of Heavy Sweating
Location: Borås, Sweden
Influences: GG Allin , Rupture (AUS), Guitar Wolf, teengenerate and those others that has made music worth to die for.
Sounds Like: The Vultures of course!
Next Shows:

Copyright © 2005-2023 Jack, All Rights Reserved.
Powered by: