October 2012 Featured Band
Every month, a randomly selected band will be featured here. If your band wants to be featured on this page,
click here
.
Social Sickness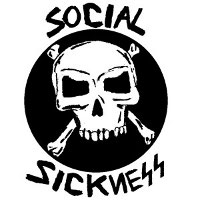 http://www.myspace.com/socialsickness
Social Sickness is a 80's style hardcore band from Rancho Cucamonga, CA
Started: Feb 2006
Members:
Nick - Yells
Randy - Guitar
Allan - Bass
Curtis - Drums
Location: Rancho Cucamonga, CA
Influences: DRI, Justice League, Artificial Peace, SSD, 7 Seconds, SOD, Circle Jerks, Circle One, Minor Threat, SOA, MDC, Gorilla Biscuits, Knife Fight, Black Flag, Stalag 13, Weirdos, Bad Brains, Misfits, The Germs, Negative Approach, Negative FX, The Cheated, Suicidal Tendencies, Ill Repute, Code of Honor, Verbal Abuse, Sick Pleasure
Sounds Like: Pretty much unique maybe if Negative FX had a three way with D.R.I. and J.F.A.
Next Shows:

Copyright © 2005-2022 Jack, All Rights Reserved.
Powered by: