November 2018 Featured Band
Every month, a randomly selected band will be featured here. If your band wants to be featured on this page,
click here
.
The Shidiots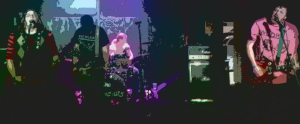 http://www.theshidiots.com
We are The Shidiots from Omaha, NE. We started as a punk rock cover band in 2008. We played bands like The Queers, NOFX Rancid, Black Flag, CCR, FEAR, Guttermouth, Dead Boys, Dogpiss, Bad Religion, and so many more. We started writing our own songs about a year later and we're obviously influenced by the covers we played. As a band, our biggest influence would probably be the Queers but Guttermouth has to be a close second. We have tried to tour at least once per year the last few years, we've been from Denver to Chicago and Minneapolis to Corpus Christie. We are ready to record a new album but have put that on hold as we are now in search of a new drummer. In the down time we plan to continue writing so we should have a nice handful of new songs shortly. If anyone in the midwest happens to be interested, try messaging us on FB. That is usually the fastest way to contact us. You can also email us @ TheShidiots@hotmail.com. Along with that we still have a few copies of our last full length, Black Shirts & Records, available on Blue Vinyl. The records, as well as other merch, are available on our website. If you want to check us out live we only have TWO shows left on the books. They are consecutive dates, November 9th and 10th. The 9th will be in Kearney, NE and the 10th will be in Denver, CO. If you can, come out and support us, if you can't that's fine. Just check us out on our website or on FB. If you come to either of these shows bc of THIS website, find Fat Dan (guitarist) and he will give you a free prize for mentioning Punk Rock Demo!
Started: 2008
Members:
Blick Jagger - bass/vox
Fat Dan - Gutiar/vox
Jarred - Drums
Location: Omaha, Nebraska
Influences: So many can be listed as each of us have out personal influences, the band as a whole is closer to NOFX, Bad Religion, The Queers, and Guttermouth.
Sounds Like: We have been told we sound like The Vandals, but not as good. Also have been told we have "Bloodhound Gangs sense of humor." not sure if thats a good thing or not...
Next Shows:
Event page for November 9th - https://www.facebook.com/events/1886630844758078
Event page for November 10th - https://www.facebook.com/events/502785870135271

Copyright © 2005-2023 Jack, All Rights Reserved.
Powered by: