May 2012 Featured Band
Every month, a randomly selected band will be featured here. If your band wants to be featured on this page,
click here
.
The Scam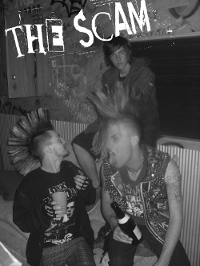 http://www.myspace.com/thescampunx
3 Piece Street Punk/Hardcore band from the Gold Coast, Australia. Busting eardrums since late 09.We've played with local, interstate and international bands such as BUZZ DELUXE (Canada), THE RUMJACKS (Sydney), PLAN OF ATTACK ,THE LOST CAUSE, BILLY CONDEMNED, THE BIG RIGS, DMS, and more. . Come to a show and find out what were all about Split CD with The Lost Cause and DMS out now! Get it at shows or hit us up!
Started: 2009
Members:
Con Swine - Guitar/Yelling
Nath - Bass/Yelling
James - Drums/Yelling
Location: Gold Coast, Australia
Influences: The Exploited, Krum Bums, The Unseen, The Girms, The Misfits.
Sounds Like: The Scam.
Next Shows:

Copyright © 2005-2023 Jack, All Rights Reserved.
Powered by: