August 2008 Featured Band
Every month, a randomly selected band will be featured here. If your band wants to be featured on this page,
click here
.
The Pugilistics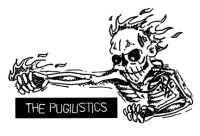 http://www.myspace.com/thepugilistics
Punk rock trio from Phoenix Arizona. Franke Andersin the founder, singer & drummer for the pugilistics. I used to sing & play drums in such phx. acts as the ointment, the adultz, cruel daddy doom & the hemlocks, roadside attraction, elbow erectus , sprung & jonzen, & the ametuer bitch gallery & who could forget the legendary noise band cake. i am also a founding member of the crazy8 skate team. -DB- played with such Phoenix acts as The Nobodies, Flesh Pedal, The Flipped Wigs. Franke Andersin And DB formed together to start the Pugilistics when both their bands decided to call it quits. Later Todd Lentz from the Punk band the Relics to complete the band.
Started: 2006
Members:
Franke Andersin DB (HAMHAWK, BARBISOL, VAGICOTTIE, ETC...)
Daniella (PEKA HEADS!!)
Location: Phoenix, Arizona
Influences: The Freeze, Circle Jerks, CH3, Angry Samoans, Jerry's Kids, UK Subs, Social D, T.S.O.L, US Chaos, GBH, Social Unrest, MDC, JFA, Battalion Of Saints.
Sounds Like: 2 guys and a girl.
Next Shows:
August, 8 2008 09:00 PM - cb?s or formerly casablanca 1801 w. van buren, phoenix, Arizona 85015 - $4
August, 9 2008 08:00 PM - Jugheads with Agent Orange / Nunzilla 52nd Street and Mcdowell, Phoenix, Arizona, Agent Orange, The Pugilistics, Nunzilla and TBA. All ages show.
September, 28 2008 08:00 PM - Q lounge, Phoenix, Arizona
November, 2 2008 08:00 PM - Q Lounge, Phoenix, Arizona WestSIDE

Copyright © 2005-2023 Jack, All Rights Reserved.
Powered by: