September 2016 Featured Band
Every month, a randomly selected band will be featured here. If your band wants to be featured on this page,
click here
.
Not From Concentrate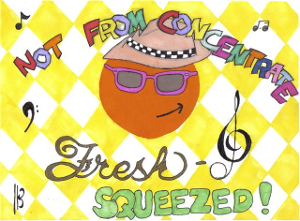 http://www.myspace.com/notfromconcentratesskaband
Not From Concentrate is a NYC-based ska band. Formed by the bass player and drummer during a break from jazz band, they have gone through members and in May of 2008 they got the members they have now. Not From Concentrate has performed in many clubs and bars around New York City including Sullivan Hall, Don Hills, and Wicked Willy's.
Started: 2008
Members: Margaret Hampton - Vocals
Jenna Calderon - Guitar, Backing Vocals
Alan Aurelia - Bass
Joey G - Drums
Miles James - Trombone
Jim Fletcher - Saxophone
Location: New York City, New York
Influences: The Specials, Sublime, Green Day, No Doubt, Westbound Train, The Beatles, Led Zeppelin.
Sounds Like: Ska
Next Shows:

Copyright © 2005-2023 Jack, All Rights Reserved.
Powered by: