Featured Band
Every month, a randomly selected band will be featured here. If your band wants to be featured on this page,
click here
.
No Mataras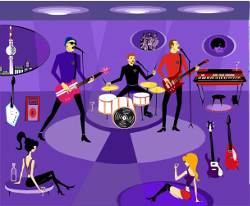 http://nomataras.com.ar
No Mataras (in English, "thou shalt not kill") is the name of an Argentinian band in the punk genre, formed in the years around 1990 in Buenos Aires, and currently based in Berlin, Germany.
Not coincidentally, "thou shalt not kill" is also the seventh commandment in the list of the ten commandments given in the bible, the holy book of Christianity. In its name, the band declares and expresses a certain basic philosophical position that was at the root of Punk in the 1970s, that of a disillusioned culture that had abandoned the "flower power" of the 60s for the new slogan "there is no future". The initial "No" also stands as a symbol of defiance. The essential spirit of punk is revealed in No Matarás. But this is not, of course, a case of revelation of a great truth like those made in the name of the biblical God; rather another kind of truth found in rebellion, in the human experience grounded in free, critical and antidogmatic thinking.
"PUNK IS: the constant struggle against fear of social repercussions. PUNK IS: a movement that serves to refute social attitudes that have been perpetuated through willful ignorance of human nature". From the Punk Manifesto by Greg Graffin, concerning rebellion in the same spirit that is expressed in the lyrics of No Matarás. Those lyrics contain various themes. Some refer to political and social issues based in the history of Argentina, such as the struggle against media monopolies, or the denunciation of crimes against humanity ("Mr. TV", "El dejó de hablar", "Quiero vivir la historia"..). Others refer to certain psychological and philosophical questions arising from the investigation of the inner self, the meaning of life, the passions, emotions and feelings of the all-too-human beings that inhabit us, their relations with themselves and with their most intimate companions ("Ríe o muere", "Morir ¿por qué?, "Súper Chica", "Es mi corazón", "En el mar"...)
In its musical output, No Matarás shows influences from early punk (The Clash, The Ramones, The Jam), Brit pop (Blur) and North American alternative music (Talking Heads, The Pixies). The band's electric, frenetic style suggests a certain similarity with the music of the Toy Dolls, and the two bands are also linked by the fact that both have covered the classic Beatles song, "Yellow Submarine", which No Matarás play in every one of their live performances.
Started: 1993
Members:
Pedro Visintin
Esteban Quintana
Benjamin Albinger
Location: Berlin, Germany
Influences: The Jam, The Clash, Pixies, DEVO, Mano Negra
Sounds Like: No Mataras :-)
Next Shows:

Copyright © 2005-2022 Jack, All Rights Reserved.
Powered by: