December 2012 Featured Band
Every month, a randomly selected band will be featured here. If your band wants to be featured on this page,
click here
.
The Lees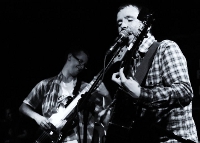 http://www.the-lees.co.cc
Lee and Lee otherwise known as, The Lees. We are a duo from Liverpool, formed July 2009 and started to play loads of gigs. Now, we have Charlee playing drums at a nice selection of gigs, so check out the gig dates and maybe come and watch your favourite new band...
Started: 2009
Members:
Lee - Guitar/Vocals
Lee - Bass/Vocals
(other contributing factors)
Charlee - Drums
Location: Liverpool
Influences: The minutemen, tom waits, fIREHOSE, robert johnson, mike watt, nick cave and the bad seeds, hamell on trial, charley patton, johnny cash, bill hicks, john fahey, X, jello biafra, hank williams, frank black, pixies, howlin' wolf, charles mingus, seasick steve, elizabeth cotton, john coltrane, miles davis, les claypool, hasil adkins.
Sounds Like: Treble... bass... and sometimes drums.
Next Shows:

Copyright © 2005-2023 Jack, All Rights Reserved.
Powered by: