August 2023 Featured Band
Every month, a randomly selected band will be featured here. If your band wants to be featured on this page,
click here
.
Lands On Fire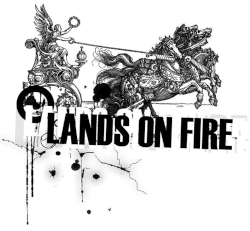 https://www.punkrockdemo.com/bands/landsonfire
Lands on Fire's evolution began in the spring of 2006 when Kirtan Carignan and Greg Sudor first met. Kirtan was the blazing lead guitar player (and multi-instrumental talent) from San Diego's "Mr. Orange Undercover" who was looking to start a band under his own vocal direction, while Greg, the former frontman for Pennsylvania's metal core giants "From Heave with a Gun," was excited to get back to his one true love – the drums. The line-up solidified over the following year with the additions of Derek Gaertner on guitar and Justin Turnes on bass.
Surrounded by a homogeneous San Diego music scene, this career minded band was intent on developing something new, fresh and powerful to rock your face-off. They spent nearly a year writing and developing their sound, building songs around human stories of our time. The band's self-titled debut album "Lands on Fire" was released in May of 2008 and immediately following they signed with LA based independent record label Fallen Angel Records. The album's single "Too Many People" is being played on the local shows on the San Diego alternative rock stations 949 and 91X as well as numerous internet radio stations.
Coming from extremely diverse musical backgrounds, but sharing a passion for hard driving progressive rock'n roll, Lands on Fire has truly developed their own sound among a crowded rock landscape. Their music brings to the stage stories of human struggle fused with an explosive mixture of pounding beats, driving bass-lines and blistering guitars layered by Kirtan's soaring vocals. Lands on Fire has been described as folk music on steroids with each song telling a story. Feel the intensity and shear energy of tracks like War Orphan and Too Many People or the anguish of Medicate to Separate.
Void of cliche and showmanship, but loaded with passion and sincerity, Lands on Fire will be bringing their brand of rock'n 'roll to a stage near you soon. See you there!
Started: 2005
Members:
Chris Carignan - Vocals, Guitar
Greg Sudor - Drums
Derek Gaertner - Guitar, Vocals
Justin Ternes - Bass, Vocals
Location: San Diego, CA
Influences: Rise Against, Against Me, The Muse, Bad Religion, John Lennon, NoFx
Sounds Like: For fans of Against Me & Rise Against!
Next Shows:

Copyright © 2005-2023 Jack, All Rights Reserved.
Powered by: