November 2012 Featured Band
Every month, a randomly selected band will be featured here. If your band wants to be featured on this page,
click here
.
Kriminal Pogo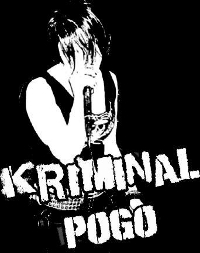 http://www.myspace.com/kriminalpogo
L.A. female fronted streetpunk band who just like to have fun, play the local dives and do everything DIY.
Started: Feb 2006
Members:
Sara Toxic - Vocals
Dave Grave - Bass
Frenchy - Guitar
Vince - Drums
Location: Los Angeles, CA
Influences: Early european punk and oi! (berurier noir, Komintern sect, Daily Terror, Hass, Slime, Major accident, the Adicts, GBH, etc..), some early west coast hardcore (Circle Jerks, Dead Kennedies, Black Flag..), some psycho and 50's rnr (Gene Vincent, Eddie Cochrane, Elvis..), and whatever we think sounds good at the moment.
Sounds Like: A concoction of all our influences.
Next Shows:

Copyright © 2005-2023 Jack, All Rights Reserved.
Powered by: