September 2011 Featured Band
Every month, a randomly selected band will be featured here. If your band wants to be featured on this page,
click here
.
Johny Comes Lately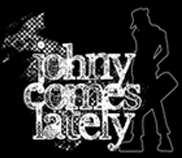 http://www.myspace.com/johnycomeslately
JohnyComesLately (JCL) emerged from the outskirts of Kuala Lumpur, Malaysia, trying to salvage the pride of Ska, Punk and Reggae in our community with the other bands parading the same type of music. JCL who can be considered as an avid Ska Punk and Reggae band since early 2007, are newcomers to the wonderful scene. JCL are also influenced by the melodious ska/punk and reggae beats of their Japanese and 2Tone ska and Jamaican reggae idols.
Started: 2005
Members:
Abby - The Silent Four and Hoarse Voices
Alief - Hot Shot Trumps
Dex - Slides and Glides
Bijat - Ups and Downstrokes
Dzafer - Snares and Thunderbolts
Abid - Alto and the Melodies
Location: Kuala Lumpur, Malaysia
Influences: Tokyo Ska Paradise Orchestra (Japan), Plague of Happiness (Malaysia), Streetlight Manifesto, The Specials, Madness, Gerhana Skacinta (Malaysia), 2 Tone Club, The Skatalites, and many more....
Sounds Like: A Ska Punk band :)
Next Shows:

Copyright © 2005-2022 Jack, All Rights Reserved.
Powered by: