August 2012 Featured Band
Every month, a randomly selected band will be featured here. If your band wants to be featured on this page,
click here
.
Hellen And The Kellers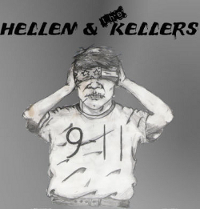 http://www.myspace.com/hellenkellers
Hellen and the Kellers have been making music for just over a year and have recently reformed after a brief hiatus. They have played through out West Virginia and also in Ohio. Releasing their first EP the american dream in mid 2005. Looking to record a full length before summer, H and the K hope to embark on a mini tour up to New Your or Possibly by Massachussetts this summer. They continue to secure larger shows. "Brick by Brick" the fan base is continually growing.
Started: 2005
Members:
Rev. Tanner Belldina - Vocals
Bryant Saunders - Lead Guitar
Cameron Belldina - Rhythm Guitar
Cory Hoban - Bass
Alex "Tuff Stix" Voldeck - Drums
Location: Clarksburg, West Virginia
Influences: Nirvana, Dead Kennedys, Leftover Crack, Choking victim, Harvey Danger, D.R.I., The Weakerthans, Black Flag, DCFC, Sunny Day Real Estate, and lots of others.
Sounds Like: H and the K....Everything and Nothing. It's like that first pair of nikes you bought. SWOOSH!
Next Shows:

Copyright © 2005-2022 Jack, All Rights Reserved.
Powered by: