January 2017 Featured Band
Every month, a randomly selected band will be featured here. If your band wants to be featured on this page,
click here
.
Gravmar & The Gravediggers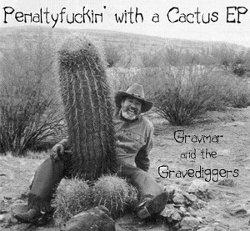 http://www.myspace.com/gravmar
Four shitheads who can't play. One bastard that can. The result is high energetic raw power penaltyfuckin' GRAVE PUNK. Get your ass ready for the e-string revolution!
Started: 2003
Members:
Turd Ferguson - Singer/songwriter
Bonebreaker - Musician
$id $ombie - E-string bass
Dr. Gravmar - E-string random rhythm cowboy guitar
Bitch-Slappin' Little One - Drums
Location: Bergen, Oslo, Stavanger (Norway) and Australia.
Influences: Tons of great punk bands.
Sounds Like: Shit.
Next Shows:

Copyright © 2005-2023 Jack, All Rights Reserved.
Powered by: