March 2021 Featured Band
Every month, a randomly selected band will be featured here. If your band wants to be featured on this page,
click here
.
Crab Monsters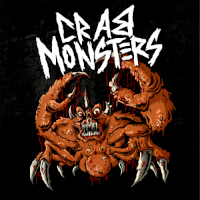 https://www.facebook.com/CRABMONSTERSPUNK
Crab Monsters started in January 2018. It's Punk, Hardcore, Thrash or Crossover, The band doesn't care about that, they usually say that they play rock n roll in a 300 km/h speed. The band played with some really well known bands like Slapshot from Boston, or Trinta e Um from Portugal, and if all goes well, they will play with M.O.D. (Method of Destruction) next July. Crab Monsters released the first album "high on Guts" in 2019 in Hellxis Records, and the next album "Pisswizard" will be out in 2021, release by Hellxis Records as well. People say that Crab Monsters play that old style hardcore that was missed for a long time... and that is really awesome to hear!
Started: 2018
Members: Granada - Vocals
Batista - Bass
Tiago Dias - Guitar
Christophe - Drums
Jordi - Drums
Location: Portugal
Influences: Zeke - Dwarves - Motorhead - Exploited - MOD - F.Minus
Sounds Like: Crab Monsters
Next Shows: MOD July 19, 2021. https://fb.me/e/1O5SV5FZ4

Copyright © 2005-2022 Jack, All Rights Reserved.
Powered by: