January 2011 Featured Band
Every month, a randomly selected band will be featured here. If your band wants to be featured on this page,
click here
.
Combat Crisis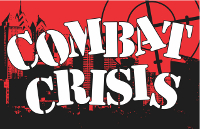 http://www.combatcrisis.com
Combat Crisis shares a common goal of fighting bigotry and ignorance through an aggressive street punk sound, backed by each member's unique influences of other musical genres. Starting in october of 2006, the band was formed with Elisha Cause on vocals, Anthony Edge on guitar, Jonas Image on bass, and Adam Bomb on drums. Close to a year after its formation, Combat Crisis joined Concrete Umbrella records and after many demo recordings, released the self-produced, debut album Face the Crowd in the Summer of 2009, with the support of Joey Vital on rhythm guitar. With the newest addition of Johnny Ruin, the band continues to tour throughout the Northeast United States, playing with and supporting both legendary and newly-established acts. Fighting racism, sexism, homophobia, and "white collar scum"; together we are Combat Crisis.
Started: 2006
Members:
Elisha Cause
Anthony Edge
Jonas Image
Adam Bomb
Johnny Ruin
Location: Philadelphia, PA
Influences: Punk, metal, old hardcore.
Sounds Like: Frequently compared to the Casualties, Exploited, Rancid.
Next Shows:
January 28th - Phoenixville, PA
January 29th - NYC with Blanks 77 and Violent Society

Copyright © 2005-2023 Jack, All Rights Reserved.
Powered by: