April 2023 Featured Band
Every month, a randomly selected band will be featured here. If your band wants to be featured on this page,
click here
.
Carlito Project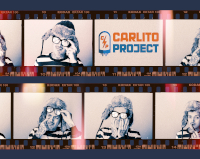 http://www.carlitoproject.com/
Homegrown in Quebec, Carlito Project was conceived during the 2020 pandemic. Musically influenced by the 90's grunge/punk era, Charles-Philippe Martel combined the angst from his long struggle with sobriety/depression and his instrumental skills to create a powerful combination of punk fury and rock ambition.
"Less is more... that's it."
Started: 2020
Members: Charles Philippe Martel (Vocal, guitar, bass, drum)
Location: Montreal, QC, Canada
Influences: NoFX, Nirvana
Sounds Like: 90's grunge/punk
Next Shows:

Copyright © 2005-2023 Jack, All Rights Reserved.
Powered by: