June 2023 Featured Band
Every month, a randomly selected band will be featured here. If your band wants to be featured on this page,
click here
.
Buster Whilaby And The Gimp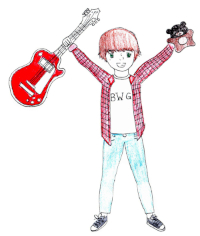 https://www.facebook.com/bwgimp/
Buster Whilaby And The Gimp is a two-piece band from Houston that combines solid music in a variety of (mostly) rock styles with humorous lyrics about everything from exercise to life in the bad part of town. They've been called "nerd rock", likened to Ween, and are comparable to Spinal Tap and Tenacious D in that they combine full musical arrangements with comedic subject matter. Their live shows use multimedia elements (video pieces, slides with the lyrics), sketch/costume changes/different characters and some crowd interaction to create a unique experience for the audience. They recently released their debut album, an EP entitled "Wasting Your Evening."
Started: 2014
Members: Albert J. Vara, Josh Bass
Location: Houston, TX, USA
Influences: Beatles, the Who, AC/DC, Guns n'Roses, Green Day, Alice in Chains, Metallica, classic rock, the 80s.
Sounds Like: Ween, Tenacious D.
Next Shows:

Copyright © 2005-2023 Jack, All Rights Reserved.
Powered by: