February 2023 Featured Band
Every month, a randomly selected band will be featured here. If your band wants to be featured on this page,
click here
.
Bedpan Fight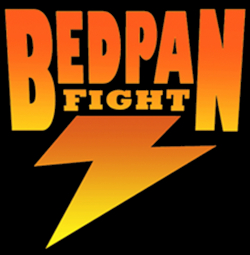 https://www.knuckledownrecords.com
Comedy pop punk from Brooklyn, NY! Want some adolescent humor to brighten your day? We're your guys!
Started: 2014
Members: Brandon "Babs" Bujnowski - Gui/Vox/Audio Production
Tim "Skrewd" Van Rosenberg - Guitar/Vocals
Dave "The Dave" Russo - Drums/Vocals
MAURICIO - Bass
Location: New York, NY
Influences: NOFX, The Suicide Machines, The Vandals, The Queers
Sounds Like: NOFX
Next Shows:
Sat. Feb 4th, 2023 at Shillelagh Tavern: https://www.facebook.com/events/559985065975681
March 11th, 2023 at Parkside Lounge with Giftshop and Killdeer

Copyright © 2005-2023 Jack, All Rights Reserved.
Powered by: