October 2009 Featured Band
Every month, a randomly selected band will be featured here. If your band wants to be featured on this page,
click here
.
Asian Cafe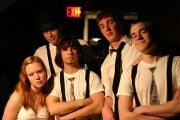 http://www.myspace.com/asiancafe
Ska/punk band from Chapel Hill, NC that loves to play fast, loud and in your face. Asian Cafe puts on extremely fun live shows mixing in originals with well known covers and insane stunts.
Started: 2004
Members:
Anthony - Bass/Vocals
Marcus - Guitar
Kyle - Guitar/Vocals
Claire - Trumpet
Aaron - Drums
Location: Chapel Hill, NC
Influences: NOFX, Reel Big Fish, Screeching Weasel, Op-Ivy, Pietasters and a lot more.
Sounds Like: Fun, take a listen on our myspace.
Next Shows:

Copyright © 2005-2023 Jack, All Rights Reserved.
Powered by: