March 2014 Featured Band
Every month, a randomly selected band will be featured here. If your band wants to be featured on this page,
click here
.
Arrest My Sister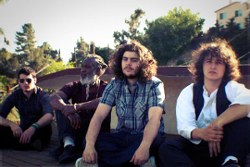 http://www.arrestmysister.com
Indie band, Arrest My Sister, rocks the crowd with a new rhythmic sound and a slate of new gigs in Southern California. Arrest My Sister is a band set to take the world by storm. As stated by Scott, "We will be performing in front of a sold out crowd at the Staples Center in the next few years", well if their performances speaks to their future they will be selling out the Staples Center well before a "few years".
Started: 2004
Members:
Scott Siegel - Vocals
Crazy Tomes - Guitar
Wadada - Bass
Jon - Drums
Location: Los Angeles, California
Influences: AMS is influenced by an assorted collection of musicians like The Rolling Stones, Bob Dylan, The Beatles, Journey, and AC/DC.
Sounds Like: Rolling Stones and AC/DC.
Next Shows:

Copyright © 2005-2023 Jack, All Rights Reserved.
Powered by: