March 2012 Featured Band
Every month, a randomly selected band will be featured here. If your band wants to be featured on this page,
click here
.
Almost There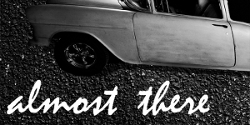 http://myspace.com/almosttherehc
Hardcore band based in Rhode Island and Connecticut. Formed in February of 2009, the line-up was complete in July. Mortgages to pay and mouths to feed, no lofty goals are set. Just write some songs, play some shows, and have a blast doing so. We all grew up in the amazing DIY Providence, RI scene of the 90's. So, that's kinda what we are doing. We are going to do as much as possible by ourselves. Not really interested in a label and touring doesn't seem likely.
Started: 2009
Members:
Anthony - Guitar
Brian - Drums
Paul - Bass
Ryan - Vocals
Location: Providence - RI
Influences: Temperance, Quicksand, Gorilla Biscuits, Turning Point, Verbal Assault.
Sounds Like: End Point, Gorilla Biscuits, Enkindle, Verbal Assault.
Next Shows:

Copyright © 2005-2023 Jack, All Rights Reserved.
Powered by: